Collaborations with the members of Hiroshima University (Prof. Kikuo Okuyama)
A THERMAL ANALYSIS METHOD FOR NANOPARTICLES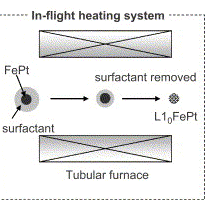 Analytica Chimica Acta, 2007
# For a small particle, probably it is more accurate, if we measure VOLUME of the particles, rather than WEIGHT, like a typical method: TG-DTA…液相中ナノ粒子のための熱分析法…..耐熱性を調べるには、粒子の重さより粒子の体積を計測。
NOVEL HEATING TECHNIQUES FOR PARTICLES & NANOMATERIALS
J. Am. Ceram. Soc, 2007
# Adding a (combustion type) shock-wave having hot gas fluctuating flow, into the cloud of sprayed aerosols/droplets enhanced the energy transfer during solvent evaporation and precipitation (then plus: crystallization and thermal decompostion). This route can also provide smaller particles than the predicted ones.
Journal of Alloys and Compounds, 2008
# A process with internal heating (i.e.,fuel-added micron-droplets) and external heating (i.e.flame) to produce a multi-component oxide particle with high crystallinity…ミクロンオーダーの噴霧液滴内部からの伝熱(熱源)を考慮した合成プロセス
Journal of Magnetism and Magnetic Materials, 2007
# Enhancing crystallization and monolayer deposition of magnetic nanoparticles via an aerosol route…機能化・結晶化のために、堆積粒子を加熱よりは、基板に到達する前の粒子を気中加熱をするとより効率的
Journal of the American Ceramic Society, 2007
# Polymer-assisted heat-treatment for breaking the (amorphous) secondary particles to (crystalline) primary particles…新規加熱法による凝集粒子から分散粒子への解粒
GAS-PHASE DEPOSITION FOR INDIVIDUAL LIQUID-PHASE NANOPARTICLES

Journal of Colloid and Interface Science, 2006
# Nanoparticle assembly on patterned "plus/minus" surfaces from electrospray of colloidal dispersion…気中分散による液相中ナノ粒子の堆積技術
SYNTHESIS METHOD FOR SMALLER PARTICLE, BUT HIGHER CRYSTALLINITY
Journal of the Electrochemical Society, 2007
# Using nanoparticle as seed-nucleation to enhance crystallinity of micron particles…省資源型蛍光体粒子の製造(コアをガラス粒子を使用した蛍光体粉末)
Journal of the Electrochemical Society, 2007
# Production of a doped-trpe multi-component oxide particles with high-crystallinity and in sub-micron order…凝集していない(白色LED用)サブミクロン蛍光体粒子を製造する手法
Journal of the European Ceramic Society, 2007
# One-step preparation of BaTiO3 nanoparticles with high-dielectric constant: 23-71 nm, Dielectric constants: 2578.8–3611.8, Loss factors: 2.6% – 7.1%, at frequency of 1 kHz…後熱処理を不要としたナノ粒子の合成法::強誘電体材料
NUMERICAL SIMULATION VS. EXPERIMENTAL RESULT: FOR SPRAY METHOD
Journal of Materials Research, 2007
# Simulation and Experimental Study of Spray Pyrolysis of Polydispersed Droplets 粒径分布を考慮した噴霧液滴の蒸発における数値計算と実験結果との比較
Chemical Engineering Science, 2006
Evaporative cooling of micron-sized droplets in a low-pressure aerosol reactor 蒸発冷却(溶媒の蒸発による雰囲気の温度が下がる現象)の数値計算および実験
FINDING THE RELATIONSHIP BETWEEN PARTICLE SIZE VERSUS BRIGHTNESS

Chemistry of Materials, 2007
# Correlations between Crystallite/Particle Size and Photoluminescence Properties of Submicrometer Phosphors.. 粒子径および結晶径と輝度との関係を明らかにできる実験アプローチ。
PRODUCTION OF POLYMER PARTICLE (FROM MICRON TO SUBCMIRON)
Colloids and Surfaces A, 2007
# Controlled size polymer particle production via electrohydrodynamic atomization..高分子粒子および無機/高分子複合粒子のための気相合成法
AEROSOL SUPPLYING SYSTEM FOR INHALATION EXPERIMENTS
Inhalation Toxicology, 2007
Biopersistence of inhaled oxide nanoparticles in rat lung. 工業ナノ粒子の有害性評価手法(凝集しないナノ粒子分散、ラット暴露実験)